Let's have a look at 10 things that will prove we are living in our future.
Let's Go !
256 MB RAM Vs 4 GB RAM
This is the DDR-266 256 MB RAM, in short its a 256 MB RAM that was used in early PCs with Pentium/AMD processors. This was an upgrade to 128 MB RAM that came in-built with the PCs in those days (m talkin bout my childhood).
This DDR-266 256 MB RAM somehow increased the speed of processing as compared to its predecessor i.e. 128 MB RAM.
But as compared to now-a-days PCs, this was nothing in front of today's processing speed. We normally use DDR-4, 4 GB RAM in home PCs, and it can go upto 12 GB in professional PCs. But i wasn't talking about PCs when i compared 256 MB with 4 GB.
This is latest smart phone, Lenovo Vibe K5 Note (Gold, 32 GB) , if you know its specs, then you already know what i am gonna show you, but if you don't you will be blown away be seeing its specs, have a look.
4 GB RAM | 32 GB ROM | Expandable Upto 128 GB
5.5 inch Full HD Display
13MP Primary Camera | 8MP Front
3500 mAh Li-Ion Polymer Battery
Helio P10 64-bit Processor
What caught my attention was its RAM, previously phones were only used for calling and messaging purpose but as the time changed, advanced technology took the phone industry to a whole new level. The inception of RAM in mobile phones was a great idea that not only increased the processing speed but gave common users the access to great technology that was restricted to only few group of people in those days.
When i was a kid, my first PC was Pentium 4 with 128 MB RAM, and after several years i upgraded it to 256 MB, that was the happiest moment for me, coz i knew this up-gradation will remove the glitches and enable smooth flow of execution. I am 23 now and these mobile phones have much more RAM than the common PCs had when i was a kid. Surely its our future we are living in.


---
2. Nokia Candy-Bar Phones Vs Nokia Smart-Phones
Released in 1999, this phone was a big hit. From its small size to its unique feature of an 'internal aerial' which was not so common in those days. I grew up seeing this phone in almost every hand, Nokia was a big name then.
Since then Nokia has launched several range of Bar phones, they have also launched phones that are called 'Smart' because they can understand human behavior and respond accordingly, Touch Screen feature was one of it. These smart-phones are power packed with various smart technologies.
From bar phones to the range of smart-phones releasing every week , we can definitely say we are living in our future.
---
Windows 1.0 Vs Windows 10
Windows 1.0/1.01 was officially released on November 20, 1985. This was the first ever Windows on planet earth developed my Microsoft Corp. This was considered to be the first GUI based Operating System, but Apple Inc. released its original Macintosh Operating System in 1984 (a year later Microsoft released Windows 1.0) and created history of being the first mass-produced personal computer with a graphical user interface (GUI). This created rivalry between Microsoft co-founder Bill Gates and Apple co-founder Steve Jobs. But we are not here to talk about rivalry, we are here to prove that the first ever Windows 1.0 created history of being the one of its kind.
After almost 32 years , Microsoft released its much awaited OS, Windows 10 that again revolutionized the Computer industry. If we take a look, there's only a difference of one dot (.) between Windows 1.0 and 10 , but in that one dot we crossed our past and came into a bright future.
---
Google Translate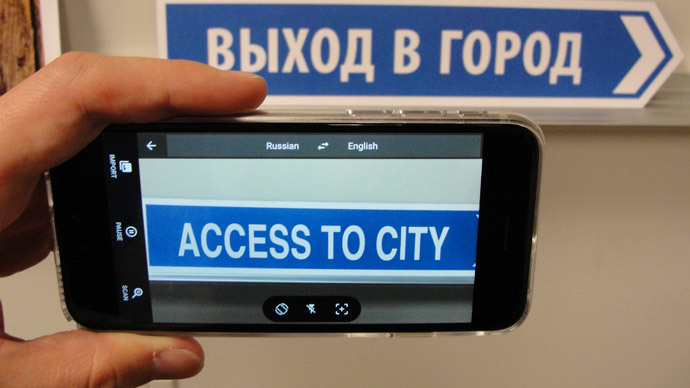 Instant translation from any language (those supported by Google), is a real thing now. Back then it was a challenging task to translate things from one language to other. Translators learned several languages, but still in some cases the translation wasn't done perfectly due to human errors. But now the internet giant Google, Inc. introduced Google Translate a very unique app that can translate anything from any language and that too in real time scenario. Thats the future i was talking about. Download this app if you don't trust me, and check it for yourself. The future is here.
---
5.  PC Hard Disk Drive Vs Mobile SD Cards
Hard Disk Drive
This isn't a PCO (Public Call Office) booth as you might think, this is the IBM 350 Disk Storage Unit, IBM was into manufacturing magnetic disk storage devices that included hard disk drive and floppy disk drive. IBM invented HDD and FDD and many innovations in this field was done by IBM employees. The IBM 350 stored 5 million 6-bit characters i.e. 3.75 MB.
What ? but its so big, it can store only 3.75 MB of data? Yeah thats correct, because back then technology wasn't that advanced to hold more data, these were initials stages of data storage units.
Secure Digital (SD) Cards
Now you might be familiar with these, yes they are the SD cards or to be specific Micro SD cards that goes into your smart-phones and can store up to 64+ GB of data. (recently a company launched 128 GB Micro SD Card, Yeah thats right 128 GB)
SD is a memory card format developed by SD Card Association (SDA) to be used in portable devices, this standard was introduced back in 1999, by joint effort of SanDisk , Panasonic and Toshiba. Yeah you know them, these are the giants in this industry because they started this.
The IBM 350 was so big and could only store upto 3.75 MB of data, and here we are talking about SD cards (micro and mini) that can store upto GBs of data. Isn't that the future we are living in ?
---
6. 7.0 MP DigiCams Vs 41 MP Nokia Lumia 1020 Smart-Phone
7.2 MP DigiCam Sony Cyber-shot
This was my first ever digital camera or DigiCam as they termed it, i was so excited to get it and start my photography journey without even realizing that its only 7.2 MP (Mega Pixels) camera. This DigiCam (including its siblings too) was one of most widely used camera of that era, because of two things, it was from a trustworthy brand Sony, and it was new. As per my information it was released in 2008, almost 8 years ago when i was in my 10th Grade / Grade 10, it came with 4x zoom (it was enough then), buyers upgraded themselves with this model and its variant to enhance their photographic skills (including me).
Nokia Lumia 1020 with 41 MP Camera
This phone was launched in the year 2013, when i was doing my Engineering, and believe me it blew my mind, i couldn't concentrate on my studies because this lil baby was on air. The most advanced technology was in the hands of common people, i don't know who all could afford that baby coz it was too expensive back then, but i know it was worth it. This was the future we were talking about.
---
7. Comic Characters Becoming Reality
First Issue of Batman Comic Book
This is the first issue of batman comic book, officially released in 1940 published by DC comics, it became a world wide hit, and people went crazy for this superhero, since then it has been loved by people around the world, and people imagined how would their favorite superhero will look in real as they read their favorite comic book, and after several years their dream came true.
This is the grab of a recent batman movie, look how realistic it looks, back then people only can imagine of their favorite superhero being real, but in today's world, through technology this became possible and people can finally see from their naked eyes the real batman right in front of them, doing actions, stunts, driving bat-mobile, flying in the air. This is the future of comic books, batman is one of them, many comic book characters became real in such movies.
---
8.
2D Vs 7D Hologram
When i was a kid, i saw these everywhere, my friends, my neighbors, my brothers – sisters, every kid of my age was a fan of these, they are 2D Holograms, they shine when tilted in some angles, i remember i spent hours playing with my Dinosaur 2D Holograms. Then came the 3D Holograms , they were much more better than the 2D coz they had the depth that made it look like it was real.
This is a live show somewhere in Dubai, what people are seeing here is a Hologram of whale jumping out of the ocean as it does in real, the only change here is that its coming out of nowhere and going out nowhere. How? This is 7D Hologram technology that took the technology of Hologram to a whole new level, and made people think and feel that the whale is in fact really in front of them at that very moment. Thats the future, its not really there, but we think it is.
---
9.  Bible Animation Movies Then Vs Now
Born and brought up in a Christian family, i grew up watching Christian Animated Movies, the above is a glimpse of what i used to see when i was a kid. I loved these movies, they helped me build a strong relationship between me and my GOD. The were fun to watch, and i learned alot from these movies. Back then the animation industry wasn't that advanced, it was in a growing phase, but i still love those animations, they gave me something i cant even tell you. They gave me memories.
HD Moses Animation Movie (Superbook)
As you can look, there's a lot of difference between these two images, but the story is the same, the story of Moses is the same and will be same forever, because GOD's Word never changes, What changed was the technology to project it. The animation became more real, and will become even more real in near future, but we are still in the future as compared to our past.
---
10. Smart-phones replacing a lot of things
Calculator
Music Player
Camera/Cam Corder
Sound/ Voice Recorder
Bar Code Reader
Scanner
Play Stations
Flash Lights/ Torch
Alarm Clock
Watch
Photo Album
Calender/ Year Planner
Newspaper / Books
Phone Diaries/ Phone Books
Television
Typewriter
Musical Instruments/ Tuner
Notepad/ Word-pad
Timer/ Stopwatch
GPS
and many more …
While researching on this topic, i found this image and couldn't resist to post it here, it completely defines what i intended to tell you. In 1980 people had a lot of stuff for various purposes, for music they had CD/DVD players, later came the WalkMan, then for photography they had a Camera, for filming they had a CamCorder, and the list goes on.
What people have now ? A Smart-Phone.
Yeah that's all, it covers everything i mentioned, and beyond that.
---
#JRKtechtips :
While talking about this topic we can't miss these stuffs.
Have a look.
Self-Driving Car (Google)
iPhone Siri
Google Allo
Microsoft Windows Cortana
Humanoid Robots (ASIMO by Honda)
Self Lacing Shoes – POWERLACE
GPS – Global Positioning System
and many more such inventions prove that we are actually in our future. Isn't that amazing ! So this is it for now. Hope you enjoyed it. If you did, please give it a like, share it, comment if you have some suggestions or questions about this topic or you just wanna add up something into my list that you think i missed.
---
Conclusion:
This is Joash Robin Kale , signing off, Tada for now, will be back with some more Tech Tips , Till then , Stay Awake, Stay Alert !
JESUS be with you all.
And don't forget to ENJOY the LIFE you have got, be Thankful to The LORD for EVERYTHING, Make someone happy , love someone, share your stuffs with someone, coz it doesn't matters if we are in future or not, what matters is if we have the real people with us in our future to hold us, to Pray for us, to Love us.
---
Note: All the images are subject to copyright. All images belong to their respective owners.
No copyright infringement was intended, all the information used here is only for educational purpose.
If you are a copyright holder and want a take-down, get in touch with us. Please note that the take-down will take 2-4 working days.
Thankyou.